5 Things to Avoid on Your 'First Date' With a Prospect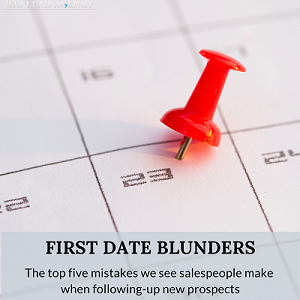 You finally landed that hard-won first date with a prospect. It's exciting, yet common to get those first date jitters leading up to the initial meeting with a potential buyer. In preparation, you'll probably practice and hone what you're going to say — your pitch—and maybe block out time in your calendar with the hope of securing the second meeting if the first one goes well.
Having literally set thousands of discovery meetings for our clients over the years, here are the top five mistakes we see salespeople make on their first date with a prospect. These errors in judgement also happen to apply when you're dating — so take note.
Don't be surprised by a no show — it happens.
Don't give up on no shows.
Don't let your anticipation get the best of you.
Don't mention the time.
Don't change locations or times.