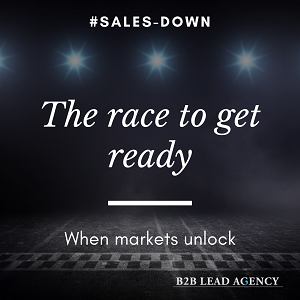 Claw back lost sales:
In a post Covid19 marketplace when businesses return to work, attention will re-focus on sales revenue targets. The battle cry: 'get us in first' will ring through the corridors of marketing and sales. Reactions may vary: Some marketers simply re-starting the demand gen campaigns that they put on pause. Others squeezing every pre-planned activity into the shortest timeframe possible. Everyone wants to know 'what's best for now'?
At B2B Lead Agency we're using our time now to re-think who we target for clients. Simply pressing 'go' on a ready-made plan that was conceived in 2019 could sabotage the quick returns that we all so desperately need in coming months.
An essential first step to fast-track success must involve your data.
It's widely known that sales people lose up to 27.3% of their time every year chasing bad data. So doesn't it make sense to get rid of the bad data NOW to save the time timewasting.
And let's not forget, that putting a price tag on bad data isn't just about lost time. It's about lost deals that sales could have won IF they'd been better focused.
This period of reflection is all about marketing teams pulling out the stops for sales to succeed. It's about productivity on every level where it's needed most.
Good Hygiene applies to data too
Common sense data hygiene means taking the time to clean-up, verify, profile and organise data. As well as scrubbing, it's also a good idea to look beyond the details you've collected already and penetrate further into accounts by finding additional contacts that link to (i.e. influence) those you have.
So if you reinvest in the value of data, what return can
you expect?
Buying new lists from unknown providers is a risky strategy and could cost you dearly. But running a data cleanse & enhancement activity will build-on what you have with KPIs:
Higher campaign response rates
Increased sales productivity, engagement and conversion
Improved brand credibility
Evidence of compliance
…Less revenue passing-you-by
Our advice is to get data ready now before markets unlock and the race begins to engage the best prospects first.
To validate and profile your lists with our help visit: www.b2bleadagency.com. Outsourced data cleanse services and virtual data researchers are on stand-by.
P.S. Don't fall for the Bad Data Snowball Effect
Don't mess-up. So many companies up-their-marketing-spend at times like these but then pile investment into rushed campaigns that fall apart because of poor quality data.
It's a false economy … You're better off enhancing active lists first and delivering more personalised messages that matter.